Extra-Curricular Activities
In the upcoming new year we will be able to offer several extra-curricular activities in our half-size gymnasium.  We know that families have busy schedules and we want to help by offering additional fee-based activities that can be done at our center before closing.  This will give you the convenience of letting your child take lessons without adding another item to check-off after picking up your child.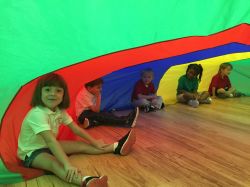 Our activities will vary based on parent interest and demand.  We are currently looking to offer activities such as dance, gymnastics, music, sports,
and martial arts.  Please contact us at (252) 215-9032 for more information or
continue to check our page as we start the new year.
Children's World is Greenville, NC's premier family of 5-star child care centers. To learn more about each of our four Greenville locations, or to request a tour, contact us today.