Infant Programs
The fastest rate of growth in all areas of development occurs from infancy to twelve months. Our centers have incredible infant programs that provide nurturing environments that are safe, clean, and visually stimulating for infants.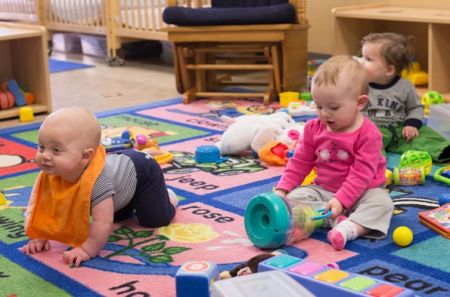 Our teachers engage infants in stimulating activities including:
Reading Books
Tummy Time
Opportunities to Socialize with Other Infants
Sensory Play
Simple Games
We supply each child's parents with daily reports filled with individualized information about their infant's day.  We feel that a strong partnership with parents is the cornerstone for a lifetime of learning.
The Creative Curriculum® for Infants, Toddlers, & Twos is used to ensure all children get individualized care. The curriculum supports activities that address the whole child by promoting development in these areas:
Physical
Social-Emotional
Language
Cognitive
The Creative Curriculum® promotes developmentally appropriate activities that encourage the infants in our care to become confident explorers.
Children's World is Greenville's premier 5-star child care organization. To learn more about our programs and curriculums, or to tour one of our four Greenville campuses, contact us today.